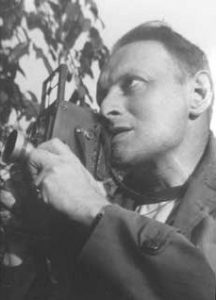 Hans Popper was born in Vienna, Austria in 1904. He attended the University of Vienna. His initial choice was chemistry, but he soon realized his passion lay in creating photographs. And so he left the University to study photography with Hella Katz, a prominent photographer in Vienna. In 1926, he became a member of the Viennese Photographers' Guild, and worked for clients such as the Indanthren-Haus, architects Ernst Lobel and Fischel & Siller, and began to have his photographs published in magazines and newspapers. In 1933 he was commissioned to create a photographic essay on the city and the inhabitants of Bratislava.
Just as his career began to take off, Hitler came to power, and his career came to an abrupt halt. In 1938 he and his wife, Erna Popper, literally, walked out of Vienna and traveled to Belgium. From there they made their way to Paris where nuns helped them hide from the authorities. Unfortunately, the French police discovered them and they were incarcerated in detention camps for refugees. They finally were able to obtain documents that allowed them to come to America. In 1941 they arrived in New York City. Their only possession – a Kodak Retina-Relex camera.
My father embraced his new country by formally changing his name to
John H. Popper, and began his career in the United State. In 1945 he became the photographer for the newly established Austrian Consulate General's Cultural Institute, and also worked for the Union Theological Seminary. Under the Wagner administration he became a photographer for the City of New York and was there to capture the moment Mayor Wagner presented the keys of the city to Martin Luther King.
ACCOLADES
At 89 my dad passed away. Had he lived a bit longer he would have been pleased to see his work finally receive the recognition it so richly deserved. First the Jewish Museum of Vienna came to New York and purchased a large collection of his photographs. That was followed by publication of a book highlighting Austrian artists from 1938-1945 who had fled Austria during the war – 'Moderne Auf Der Flucht'. My dad's photograph of a man by the banks of the Seine River was used as the cover. A second book was published in 1998 'Ubersee Exodus from Austria'. This time they used my dad's photograph of the Manhattan skyline as the book cover. In 2009 an exhibition of works featured in these books was presented, first in Vienna, and then in the south of France. The Metropolitan Museum also has several of his photographs in their permanent photographic collection.